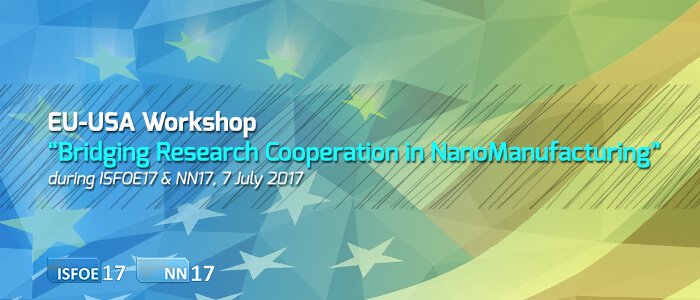 The USA and EU academics, researchers, policy makers, industrial stakeholders and entrepreneurs will present, elaborate and discuss their ideas and current activities in Nano-Manufacturing and Factory of the Future and seek opportunities and channels to establish links and research collaboration in the fields of Nanotechnology, Advanced Materials, Nanofabrication, Nano-manufacturing and Factory of the Future through EU H2020 and NSF Calls. This Workshop aims to create a sustainable framework of synergies for common success and growth between EU and USA.
Info
The EU-USA Workshop will take on 7 2017, during the NN17 Conference and ISFOE17 Symposium.
In order to register for the Special Workshop, you can either Register for 1-Day-pass selecting NN option or ISFOE option, or Register for the whole NN17 (Full Registration) or ISFOE17 (Full Registration).
Committee
Dr. Georgios Katalagarianakis, European Commission, Belgium
Prof. Katerina E. Aifantis, University of Arizona, USA
Prof. Konstantin Gus Kousoulas, Assistant Vice Chancellor for Research and Economic Development, Louisiana State University, USA
Prof. Kyriakos Komvopoulos, University of California, Berkeley, USA
Prof. Ravi Silva, University of Surrey, UK
Workshop's Invited Speakers
Prof. Katerina E. Aifantis, Engineering Mechanics, University of Arizona, USA
How USA institutions can collaborate with EU partners
Dr. Ilise Feitshans, Institute for Work and Health University of Lausanne, Switzerland

Prof. George Hadziioannou, LCPO, Bordeaux University, France
Dr. Georgios Katalagarianakis, European Commission, Belgium
Prof. Kyriakos Komvopoulos, University of California, Berkeley, USA
Fostering EU-USA Research Cooperation in Nanomanufacturing
Prof. Konstantin Gus Kousoulas, Assistant Vice Chancellor for Research and Economic Development, Louisiana State University, USA
Dr. Dimitris Niarchos, Dept. of Materials Science, NCSR Demokritos, Greece
Nanomagnetic materials for energy needs
Workshop's Poster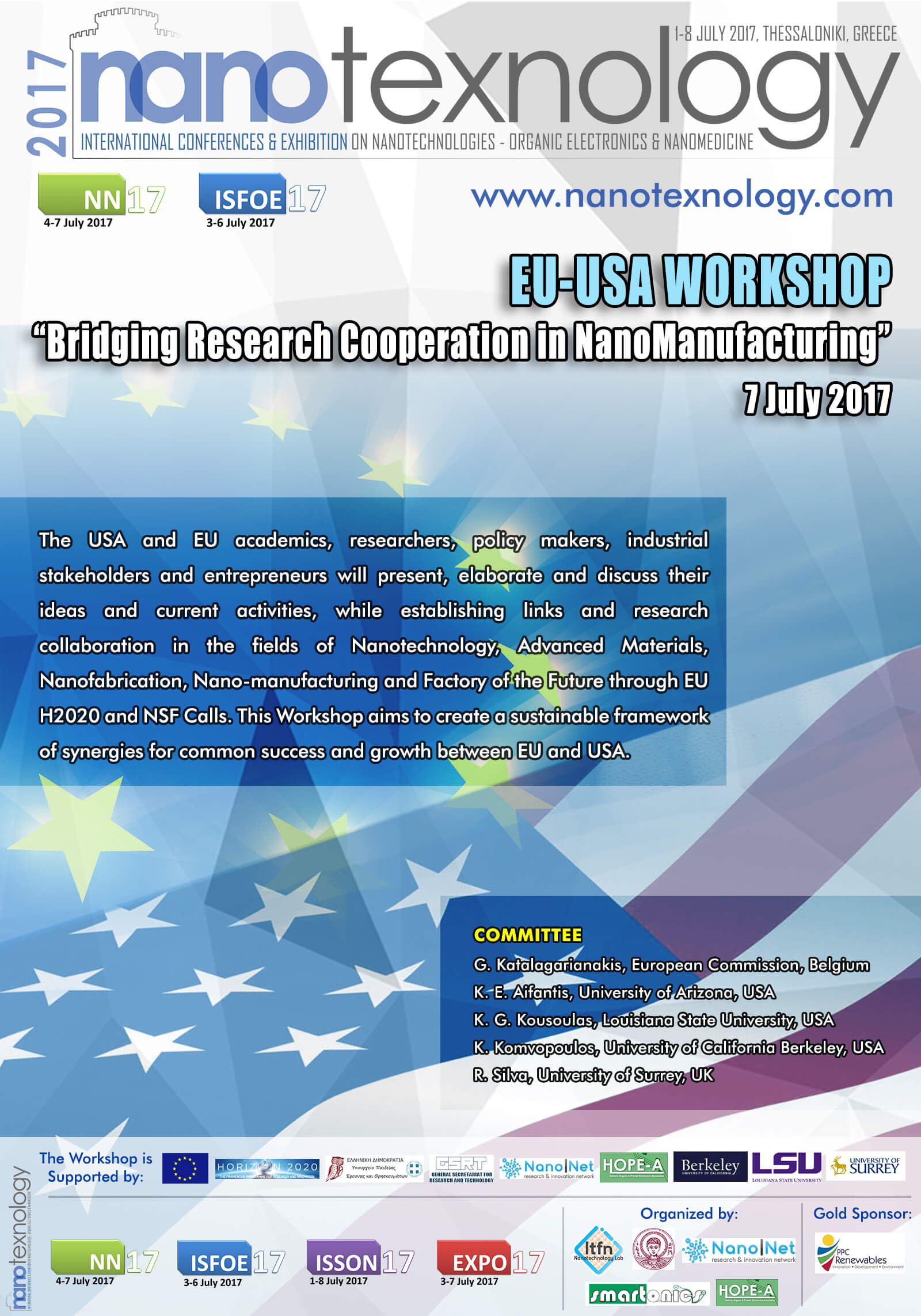 ---
The workshop is supported by: